Social media is the new way of communication or word of mouth over the internet. We all know it is impacting on the way we all communicate and interact with our friends, colleagues, and clients. With the advent of new technology and the accessibility of smart phones users are looking for information right in their hands and influencing the buying decision of their friends, family and colleagues - group of users, through these platforms. 
People get influenced with other people opinions and that the power of social media. If your brand is positioned to create a positive buzzword by harnessing the power of these platforms, you can turn those hundreds of people talking about you into your customers.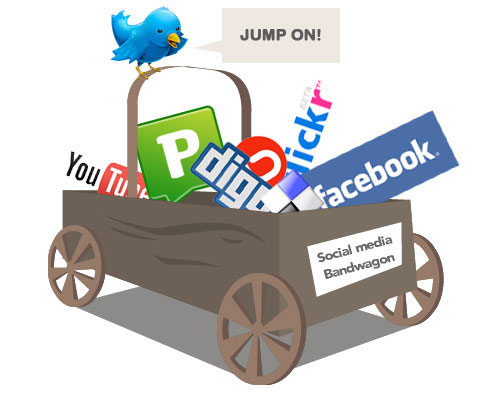 From big name brands to individuals, whether on a 1-2-1 basis or to a targeted group, Social media is impacting on the way we all communicate and interact in our personal lives and a professional capacity. 
There are hundreds of available social media platforms but the most common that you have probably heard of include Facebook, twitter, LinkedIn and Google+ along with blogs and postings. All these platforms provide set of tools that allow users to interact with each other. User interaction accounts for content directly and it is perceived as how the messages have been received through traditional PR and advertisement. This way the clients, prospects and your company are connected with each other and are up-to-date with views and comments about your product and services.
By participating in Social Media communities, you can directly influence groups of users with messages broadcast succinctly and to a targeted audience.
You cannot ignore the power the user have gained through this platforms, you need to harness that into your favours by offering excellent customer services along with great products and services you offer. Of the many available social media channels, you need to choose the most effective channels, make them branded and interconnect them, so that your prospects and customers can recognise where the comments come from and they stay well updated. The purpose is to enhance your site's position in search listings and drive traffic back to it – a great contribution to your SEO campaign.
Our online marketers at Fondue keep themselves abreast with the fast changing arena of social media platforms to deliver you the great results. We make sure that you can increase your sales using these platforms by raising your brand awareness, engaging more clients and generating more leads.
We provide you far more cost effective services that include setting up and monitoring and managing such on line media. Internet marketing is all about keeping your clients coming back. Your website has to stay interesting and useful, constantly changing and social media in a way does provide you all that.

Our service can help you:
choose the most effective social media solutions for your firm
establish a branded presence for that media
promote your firm through that media by monitoring and managing content and client interaction on a regular basis
keep your presence up to date by providing content specifically for you
increase your search engine optimisation results
We start with your customers and finish with your brand. A piece of caution advice: never try to sell to your customers at the very first stage.
The first stage is to get your customers interested in you (that we do using interactive Facebook, twitter, and LinkedIn marketing, and through interactive games) and then is the stage to get them to translate that interest into sales activity!
It is interesting to know that how many social media consultant have mushroomed up during the last 12 months. However, it doesn't matter how many times a day you "tweet" or how many people read your profile on LinkedIn, if it isn't driving relevant traffic to your website it is meaningless.
At Fondue web solutions, we help our clients view Social Media as a vital part of an online landscape. It's an important part of your SEM Search Engine Marketing strategy and should be part of a linked up campaign to promote your website to appropriate audiences.
Just give us a try to believe what we say!